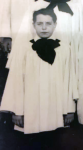 "Richard was in the class of 1954 but he was a singular student in the tenth grade. The school created at tenth grade for Richard as he was the lead soprano soloist at that time. He left the school midway through the tenth grade as he felt lonely being the only tenth grader.
Richard has very fond memories of the Boychoir caroling in the living room of Albert Einstein and of attending Arturo Toscanini's farewell party in his apartment prior to leaving for the summer to go back to Italy. He and Chet Allen wished to thank the maestro for the invitation. Toscanini was in his private quarters and was watching wrestling from Madison Square Garden on TV. Richard has many fond memories also of Gian Carlo Menotti, both of the premier Hallmark Hall of Fame opera of Amahl and then singing the title role at New York City Center Opera.
Richard has an abundance of memories of those years. He was, for example, the first member of the Boychoir to visit all forty eight states at the time."
- Mrs. Deanne Mincer
Villager Was Executive Producer on "The Phil Donahue Show" By Liz Coughlin, Daily Sun Staff Writer Nov 17, 2020